A Ripper Notes Article

This article originally appeared in Ripper Notes. Ripper Notes is the only American Ripper periodical available on the market, and has quickly grown into one of the more substantial offerings in the genre. For more information, view our Ripper Notes page. Our thanks to the editor of Ripper Notes for permission to reprint this article.
Suspect and Witness - The Police Viewpoint
By Stewart P. Evans
As an author with several highly respected Ripper books under his belt, Stewart P. Evans most likely needs no introduction to our readers...
As a retired police officer with nearly thirty years service, most of it at the 'sharp end' and many as a tutor constable, I have taken many hundreds, possibly thousands, of witness statements. The cases ranged from the very serious offences of murder and rape; the less serious such as assault, robbery and burglary; to the minor cases of theft, criminal damage and road accidents, and so forth. Witness statements are considered the 'bread and butter' of good police work. An old sergeant told me in the early days of my service, "There's an art to statement taking." And he was right.
The taking of witness statements is one of the most important practical areas for the investigating police officer. Amongst the most important are those in relation to the identification of a suspected person. Such statements require much skill on the part of the officers who take them. A typical witness cannot be expected to supply full and accurate details at the mere request, "Tell me what happened." In my experience witnesses do not realise how much they are able to say nor what is relevant. When the skilled statement-taker finishes, he usually surprises the witness with the length of the statement and the amount of information it contains. Only hard earned experience and many years of development has resulted in the high standard of most witness statements to be found today. They have been honed to a fine art by the knowledge of the possible defences that may be raised, the nature of the evidence as regards relevance and the information needed as a result of case law. When a witness says something that sounds dubious in any way, the officer should query the point to try to get it backed up with factual and valid reasons for stating it. Everything needs to be as accurate and specific as possible so that the witness can adhere to it and withstand cross-examination in court, sometimes by a hostile defence counsel.
What is evident in many Victorian witness statements is the amount of relevant material that the officer has failed to record. It is an odd fact that many of the points missing are very obvious ones. Possibly they were taken for granted and deemed unnecessary to record, but that's being kind. They were probably just overlooked. Most of the original written witness statements in the East End murders of 1888 are lost. One that has survived, however, is a good example of a statement lacking in important details. Made by George Hutchinson in the case of the murder of Mary Jane Kelly, it is written on standard printed and lined report paper and is preserved in the National Archives at Kew. It is a contentious document, as some regard Hutchinson with great suspicion, believing that his statement is 'too good to be true' and 'there is too much detail in it, so it must be an invention.'
When I assessed Hutchinson's statement from a police point of view, I was amazed at how much detail is actually missing. I have held the original in my hands and examined it. It is dated 12 November 1888. The first thing to note is that it appears to have been written by Sgt Badham at Hutchinson's dictation and then signed by Hutchinson when finished. This was normal procedure then and still was during my service as a police officer. This is largely because virtually no witness is capable of writing the requisite statement unaided. And by that I don't mean that the officer makes up parts of it and then gets the witness to sign, he merely 'draws' the story (sometimes rather slowly and painfully) from the witness, writing it down as he goes along.
The statement provided by George Hutchinson must be examined to see just where it is lacking. Considering its huge importance - a possible sighting of the actual Whitechapel murderer with a victim - it is woefully lacking in detail and very short. It is patently obvious that Hutchinson should have been quizzed to bring out greater detail and verification of various points. Many of these questions may have been cleared by Inspector Abberline when he subsequently 'interrogated' Hutchinson at Commercial Street Police Station, after the taking of the statement, on the evening of Monday 12th November 1888. Abberline would certainly have read the statement and had it in front of him when he 'interrogated' Hutchinson. Unfortunately Abberline's notes of that interview have not survived the passage of time, although we do have his covering report, which does supply a few extra details. What is for certain is that Abberline would have cleared up with Hutchinson as to why he had come forward so late. That Hutchinson had a good reason must be assumed as Abberline made no comment on this point and still felt happy with Hutchinson's statement. It is only possible to guess at Hutchinson's reason or reasons, but he was seeking a job and may have gone visiting out of town for the weekend, returning on the Monday and then learnt of the murder. There was no instant media in those days, and short of getting hold of a recent newspaper he would not have heard of it in a rural area.
Hutchinson's witness statement must be examined to see what important information - information that he could have supplied - is missing.
"About 2 am 9th I was coming by Thrawl Street, Commercial Street. and just before I got to Flower and Dean Street I met the murdered woman Kelly. And she said to me..." - Here the day (Friday) should be given before the date, and how did he know the time? He really should say, although it was probably from the church clock chiming. He should mention that she was known to him and how well (even if it's obvious). Was she drunk or sober, and did her breath smell of intoxicating liquor? Was she loud or quiet? He should have fully described Kelly, especially her clothing and whether or not she had a hat on. He should also have stated whether she was merely standing still, walking in the same direction as himself, or towards him from the opposite direction (which it seems she was). He stated that she "went away towards Thrawl Street..." This would mean that Kelly walked off in a southerly direction, away from Dorset Street - Hutchinson's statement indicates that he was initially walking along Commercial Street from the direction of Whitechapel High Street and towards Dorset Street.
Hutchinson then states that Kelly spoke with a man who stopped her and who had approached her from the opposite direction. This introduces the suspect, so much more detail is now required in the statement. Hutchinson should have mentioned how far away the couple were from him when they stopped and talked. Were they talking loudly or quietly? He must have been fairly close as he heard them speak: Kelly said "Alright," to the man and he said, "You will be alright for what I have told you." Incredibly the statement contains no information on the man's voice! Was it deep or high? Was there an accent of any sort?
Hutchinson saw the man put his right hand around her shoulder and noticed that he was carrying "a kind of a small parcel in his left hand with a kind of a strap round it." What exactly was the size, shape and material of this parcel? Was the man carrying it by the strap or with his hand around it (was it shaped as if it might contain a knife for example?). Hutchinson could surely have supplied a better description of this 'small parcel.'
The statement continues with Hutchinson explaining that he "stood against the lamp of the Queen's Head Public House and watched him..." This is the crucial section, for it is here that the close-up encounter with the suspect appears. In these circumstances it is important to mention the amount of light given by the lamp and its height and location in relation to the couple. Was there any other ambient light such as from the windows of the pub? None of these details are mentioned. "They then came past me and the man hu[ng] down his head with his hat over his eyes. I stooped down and looked him in the face. He looked at me stern." How tall was Hutchinson? This really should have been stated as he said that he 'stooped down' to look the man in the face. How tall was Kelly? How much taller than Kelly was the man - if at all? How close was the man when he passed? The man was on Kelly's left, but where, exactly, was Hutchinson standing?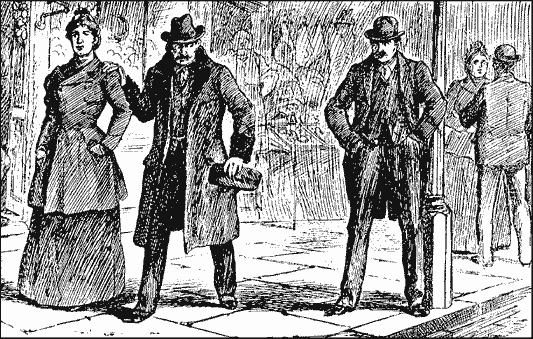 Artist's impression of George Hutchinson watching Mary Jane Kelly with a suspicious man in Commercial Street in the early hours of Friday, 9 November 1888.
From Famous Crimes Past and Present by Harold Furniss (from the author's personal collection).
"They both went into Dorset Street. I followed them. They both stood at the corner of the court for about 3 minutes. He said something to her, she said alright my dear come along you will be comfortable. He then placed his arm on her shoulder and gave her a kiss. She said she had lost her handkerchief, he then pulled his handkerchief a red one out and gave it to her. They both then went up the court together." - How closely did Hutchinson follow? What sort of gait did the man have? What was the available lighting for this area? How closely did Hutchinson stand when they stopped in Dorset Street at the passage entrance? (It must have been fairly close for Hutchinson to hear the conversation.) Was she speaking loudly as stated in a subsequent press report? Did Hutchinson secrete himself somewhere or was he open to their view? Were they aware he had followed them? Not one of these questions is answered in the statement.
Hutchinson should have been quizzed by Sergeant Badham as to how he was able to say that the handkerchief was red, bearing in mind the difficulty in discerning colour at night in artificial lighting. These points are all very relevant and should have been covered in the statement. In modern witness statements it is often deemed necessary to include negative points in order to cover queries that might crop up in subsequent hearings.
Hutchinson finishes by saying, "I then went to the court to see if I could see them but could not. I stood there for about three quarters of an hour to see if they came out, they did not so I went away." How did Hutchinson judge the time? In a subsequent press report it states he said, "When I left the corner of Miller's Court the clock struck three o'clock", but this is not mentioned in the police version.
Again there are crucial questions unanswered in the statement: Who did Hutchinson see come or go during his vigil? (If he saw no one then this should have been stated.) Why wait so long? Where did he go and who did he see when he left Dorset Street? When did he learn of the murder? As we have already mentioned, why was he so late in coming forward? These questions and more should have been answered.
The description of the man is written at the end of the statement, as opposed to being in the body of the text, a not uncommon practice. It was as follows, and I will indicate some of the points that should have been covered -
"Description age about 34 or 35, height 5 ft 6." - What yardstick did Hutchinson use to gauge the man's height? Was he taller than or the same height as Kelly, and what was Hutchinson's height? Was the man thin, fat, or medium build?
"complexion pale, dark eyes and eye lashes, slight moustache curled up each end and hair dark, very surley [sic] looking..." - Was the moustache thick or thin and was it waxed? How long was the man's hair?
"dress long, dark coat, collar and cuffs trimmed astracan [sic] and a dark jacket under, light waistcoat, dark trousers, dark felt hat turned down in the middle, button boots and gaiters with white buttons, wore a very thick gold chain, white linen collar, black tie with horse shoe pin, respectable appearance walked very sharp..." - How long, exactly, was the coat (calf or ankle length)? Was it done up or open? (How did he see the waistcoat, gold chain and pin?).
Finally, "Jewish appearance can be identified." - What made him say the man was of 'Jewish appearance'? Was it ethnic appearance, affluent clothing and style, his accent? Sadly Hutchinson does not elaborate.
There is a marginal note next to the description stating "Circulated to A.S." (All Stations), indicating that the description was taken very seriously and the source was deemed reliable.
In any such statement the following points should routinely be included: weather conditions, visibility, other people seen, any traffic on the roads, ambient noise and lighting, all distances involved (as nearly as can be estimated), and duration of sighting.
What did Abberline think of Hutchinson? Fortunately we know this from the covering report of the same date -
An important statement has been made by a man named George Hutchinson which I forward herewith. I have interrogated him this evening and I am of opinion his statement is true. He informed me that he had occasionally given the deceased a few shillings, and that he had known her about 3 years. Also that he was surprised to see a man so well dressed in her company which caused him to watch them. He can identify the man and arrangement was at once made for two officers to accompany him round the district for a few hours tonight with a view of finding the man if possible.

Hutchinson is at present in no regular employment, and he has promised to go with an officer tomorrow morning at 11.30 a.m. to the Shoreditch mortuary to identify the deceased.
The mere use of the word 'interrogated' indicates that Hutchinson was initially regarded as more than just a witness and that suspicion had attached to him. The details of how well Hutchinson knew Kelly, the fact he had given her money in the past and the length of time he had known her (longer even than her man friend Joseph Barnett) should also have been included in his statement. Hutchinson did not give his reason for watching the couple in his statement, which should have been included. The fact that a well dressed man in her company made it worth his while to watch them. Did he feel that the man could be the Whitechapel murderer because he was well dressed? Others have speculated that Hutchinson may have thought of robbing (mugging) the man on his leaving Miller's Court, which would have been a reason for Hutchinson taking particular note of the 'very thick gold chain' and 'horse shoe pin'.
It is also interesting to note that Hutchinson was asked to make an identification of the body on the morning of Tuesday 13th November. This was not required as she had already been legally identified by Barnett and landlord John McCarthy at the inquest. Was this to judge Hutchinson's reaction or to act as a 'belt and braces job' on the identification? Possibly it was thought advisable as Hutchinson had known her longer than the others.
The statement consists of three pages. Hutchinson's signature appears at the end of the first two pages and where the text finishes on the third line of the third page. It is counter-signed by Sergeant E. Badham and his divisional supervisors Inspector Ellisdon and Superintendent Arnold, showing that it worked its way through the usual channels up the hierarchy. Abberline has also signed it as the investigating officer in charge submitting the statement.
A note of interest for the conspiracy minded readership is that Hutchinson's apparently genuine signature on the first page does not quite match those on the following pages. It could be a variant signature, or possibly he failed to sign the second two pages by mistake and the subsequent signatures were added by a police officer to cover the oversight (probably Badham himself).
Abberline was not a fool, he was a seasoned high-ranking detective officer. His report of 12 November was factual and was a confidential internal police report that should have no important omissions and would not contain deliberately untrue or misleading information. Thus when Abberline wrote "I am of opinion his statement is true", he meant just what he said.
The press obtained a description of the suspect from Hutchinson and it appeared in some of the newspapers on Tuesday 13th November 1888 and later. The press description varied enough from that in the police statement to warrant comment. In the police statement the man's complexion is given as 'pale' whilst in the press version it is 'dark.' In the press 'dark gaiters with light buttons' are mentioned as opposed to the 'gaiters with white buttons' of the police statement. The 'very thick gold chain' becomes 'massive' in the press report, and his watch chain has 'a big seal, with a red stone, hanging from it'! The 'slight' moustache becomes 'heavy', and he gains 'bushy eyebrows.' The elaboration of 'no side whiskers' and 'his chin was clean shaven' also appears in the press report. The Jewish appearance becomes that of 'a foreigner'; he 'tightly grasped' the parcel in his left hand and it appeared to be covered in 'American cloth'. His right hand, on Kelly's shoulder gains 'a pair of brown kid gloves', and instead of walking 'very sharp' he walked 'very softly'. In the press version, Hutchinson went up the court and saw no light in the house and heard no noise (If he did indeed do this it is incredible that it is not in the police statement).
The press also reported that Hutchinson said, "He lives in the neighbourhood, and I fancied that I saw him in Petticoat Lane on Sunday morning, but I was not certain." This comment may have arisen from the fact that the police asked Hutchinson to look round the district for the man. This is not mentioned in the police statement, and one would have thought it important enough to include if it were true. Was this something that Hutchinson merely failed to tell the police? That seems unlikely.
Other small details are added, such as that Hutchinson passed the man standing at the corner of Thrawl Street. Kelly was not reported as drunk but appeared 'a bit spreeish'. This brings with it the question of whether or not he smelt alcoholic liquor on her breath when he spoke with her.
The press description conjures up much more of a stage-like villain than the one taken by the police. Although it has been suggested that these were elaborations by Hutchinson, they are equally likely to have been assumptions or gilding by the press, which was always keen for a more dramatic story. In assessing the descriptions of the suspect, the one given in the police files, lacking though it is, must take preference to the press report. It is interesting to look at the Harold Furniss illustration of the encounter that appeared in Famous Crimes Past and Present, circa 1904, where he shows the suspect's coat open revealing the descriptive detail underneath, although the apparently busy street scene in the background does not seem compatible with the hour of 2 a.m.
Those who would have Hutchinson as a likely suspect himself cite his odd and prolonged vigil outside Miller's Court as indicative of his guilt. It has also been suggested that Hutchinson was the man seen by the witness Sarah Lewis when she arrived at Miller's Court 'between 2 and 3 o'clock' that morning. In her first written statement she said, "when I came up the Court there was a man standing over against the lodging house on the opposite side in Dorset Street ['talking to a female' deleted] but I cannot describe him'. Yet in a further inquest statement she says, "I was at her house at half past 2 on Friday morning she [Mrs. Keyler] lives at No 2 in the Court on the left on the first floor I know the time by having looked at Spitalfields Church clock as I passed it - When I went in the court I saw a man opposite the Court in Dorset Street standing alone by the Lodging House. He was not tall - but stout - had on a wideawake black hat - I did not notice his clothes - another young woman passed along - The man standing in the street was looking up the court as if waiting for some one to come out..." It has been suggested that the man was Hutchinson and, realising after the inquest that he had been seen and might be recognised again, decided to volunteer his evidence to deflect suspicion. The fact that he was standing in the open outside a common lodging house for so long militates against the proposal that he was the killer. If he was the murderer it was a decidedly risky, if not stupid, thing to do. Also, Kelly's murder undoubtedly occurred after Hutchinson's watch, and he would hardly have risked committing murder knowing he had been seen.
In finally summing up it must be said that the statement taken by Sgt Badham is unsatisfactory, despite the fact it must be preferred to the press accounts. It is too short and lacks much detail and clarification of facts. It certainly would not have been accepted by my old sergeant. But, I guess that the police have now come a long way with their statement taking since those dark, far-off days of 1888, and, unfortunately, we have to make the best of what we have been left with - and that often raises even more questions.
SOURCES:
National Archives/Metropolitan Police MEPO 3/140
Greater London Record Office MJ/SPC, NE 1888, Box 3, Case Paper 19
The Times
The Daily Telegraph
The Star
The Complete History of Jack the Ripper, Sugden, 1995
The Jack the Ripper A-Z, Begg, Fido and Skinner, 1996