Spitalfields Market
Spitalfields Markets is a large open market area on Commercial Street, Spitalfields, a minute's walk from Dorset Street and even closer to Hanbury Street. The market would have provided employment for some of the local residents during the time of the murders. It remains standing even today.
---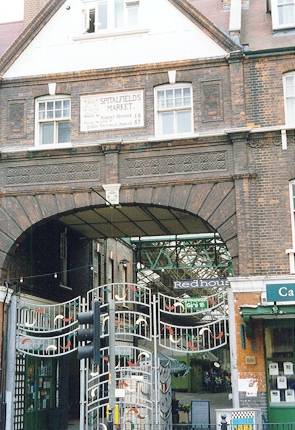 Above: A view of Spitalfields Market on Commercial Street. The market is a very short distance north of where Dorset Street once stood. This photograph was taken from the east side of Commercial Street. Taken: Thursday, May 13, 1999. Photograph courtesy of Johnno.

Spitalfields Market. The first general market here received its charter in 1682. It later become famous as a fruit and vegetable market. In 1856 the old market site was acquired by a self-made ex-market worker, Robert Horner. He had the market redeveloped to this design from the late 1880s to early 1890s. Pictured from Lamb Street. Photograph courtesy of Viper.