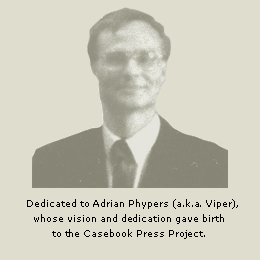 Press Reports
With many thanks to Adrian Phypers, Chris Scott, Alex Chisholm, Alan Sharp, David O'Flaherty and countless others who have helped in procuring and transcribing the following articles.
In these pages, you will find complete transcriptions of contemporary newspaper articles which covered the Whitechapel murders. They are categorized by newspaper and by author, below. We currently have 5972 fully transcribed contemporary articles available from 303 different newspapers around the world.
You may now search our press reports by date using our new calendar feature.
You may also perform a full-text search on only the press reports here.
A complete list of London newspapers is also available for those wishing to pursue research on newspapers not already listed below. We would greatly appreciate copies and/or transcriptions of any newspaper articles readers may find during their research, for inclusion on this portion of the web site. Please email inquiries_newspapers

casebook.org. if you would like to submit additional articles.
Authors
Newspapers