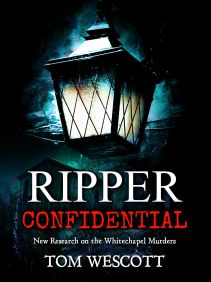 Rippercast: The Whitechapel Murders Podcast
Ripper Confidential Part One- Bonus Topic: The Goulston Street Graffito
July 13th, 2017
Duration: 00:14:56
We bring to you a short segment edited out of our last interview with Tom Wescott in which he discusses his opinion on the Goulston Street Graffito.
Tom Wescott is the author of the books 'The Bank Holiday Murders' and 'Ripper Confidential'.
You can listen to the podcast via the player below:
If you'd like to download the full mp3 you may do so by clicking here. You may wish to right-click on this link and select "Save as" in order to save the .mp3 file directly to your computer.